Use Automation to Plan Efficient Routes
Extend the power of your custom software to reduce mileage, fuel expense and time.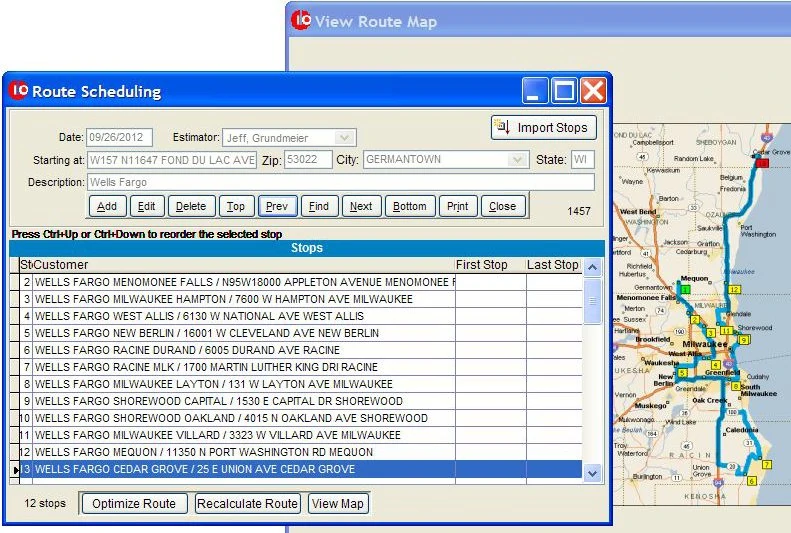 Without question, the most important advance in navigation in the past 100 years has to be the GPS. This relatively inexpensive device can save you time, gas, and frustration by calculating the fastest routes between two points, then giving you turn-by-turn instructions on how to get there.
GPS's work wonderfully if you're only planning for one or two stops. But what if you need to make 31 deliveries or write up 19 estimates at separate stops in your region? What's the fastest and most efficient way to map out all those stops?
That's the goal of this custom software application. It does its magic by talking with Microsoft Mappoint in the background.
Users start by identifying all the stops they need to make for a given trip. Then they press the Optimize Route button, which feeds the stops to Microsoft Mappoint behind the scenes. Mappoint calculates the fastest route, and sends the results back to our software, which reorders the stops into the order suggested by Mappoint.
If a user wants to deviate from that suggested route, s/he can do so by moving stops up or down, then pressing Recalculate Route. Users can then print a report listing each stop in order, along with a map overview. Armed with this tool, estimators and delivery personnel can then input the addresses into their GPS, and they're on their way.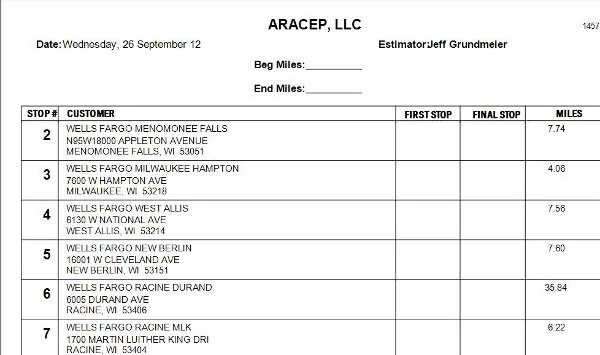 This custom software solution provides excellent "what-if" potential—you can visually review what effect reordering stops will have on the rest of your trip before you set one foot outside the door.
Although this particular form was developed in Visual Foxpro using a FoxPro database, similar forms could be developed using dot-net programming languages equally well.
---